Lettre Mode N°2  par Sabrina Derian Matthews
Translation by Rachel Christophe Baker
NOS ROBES DES BEAUX JOURS!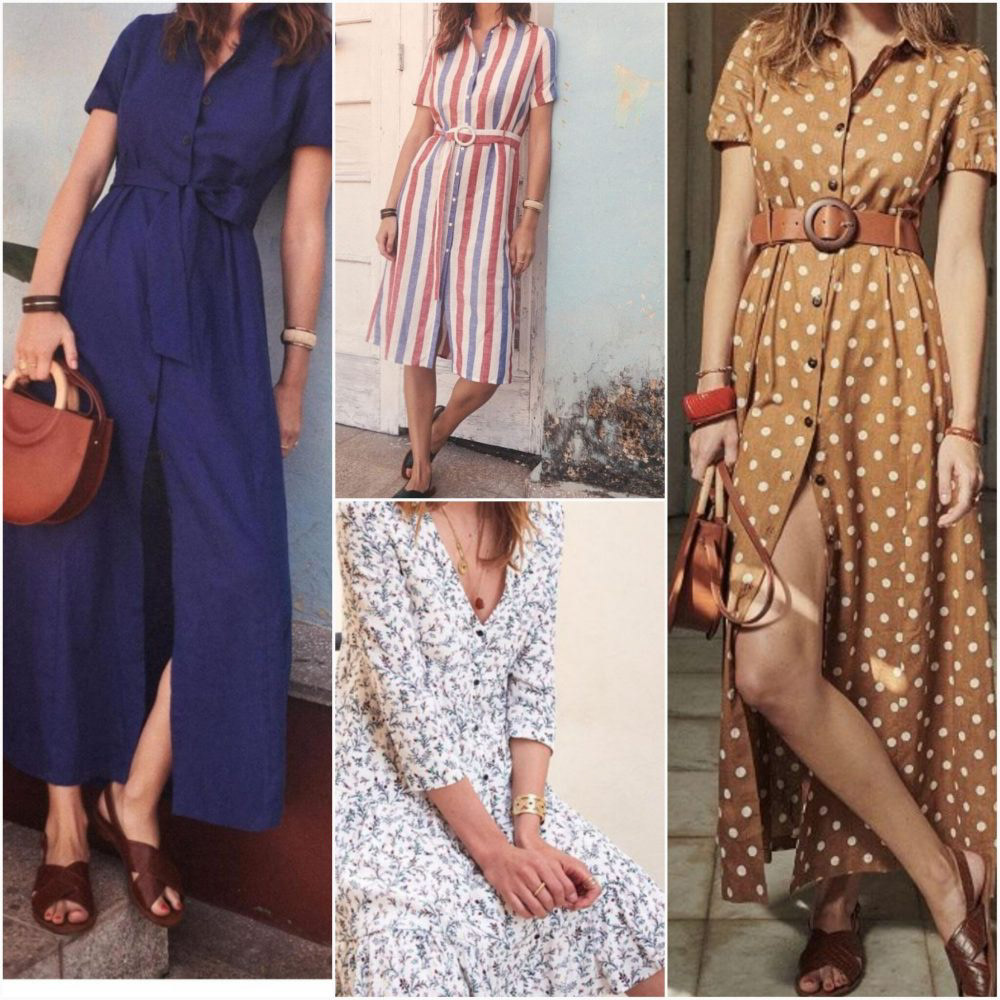 Certes, nous ne pouvons pas nous pavaner dans nos jolies robes en ces périodes troublées mais rien ne nous empêche dans un esprit de positivité d'en parler ensemble, d'en rêver et même de les mettre pour un apéro terrasse en amoureux! 
Alors, pour être pile dans la tendance, voici mon decryptage pour vous guider dans vos choix! 
Optez pour la robe boutonnée qui est très presente cette année! Elle vous permettra de montrer juste ce que vous voulez! Dans des matières fluides, elle saura nous mettre en valeur  par la ligne verticale créee par les boutons qui allongera notre silhouette! 
Les robes "Boho Chic" resteront des indispensables cette saison également! Les volants, les imprimés et la longueur apporteront du romantisme à nos tenues. Beaucoup d'entre elles se porteront très facilement avec des sandales plates pour un confort assauré afin de pouvoir être a l'aise en restant chic!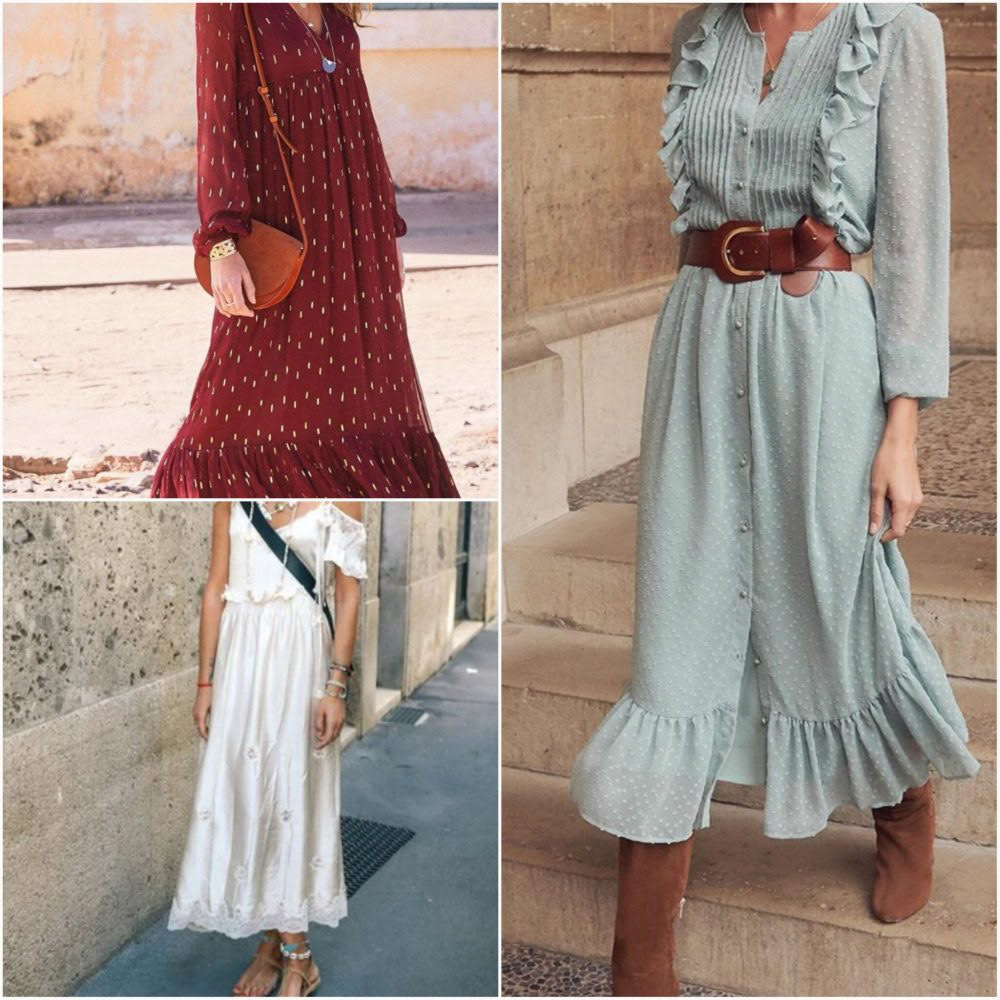 Nous ne passerons pas a côté, non plus, des robes dos nus! En effet, le dos plongeant nous donnera une allure glamour et sera un atout charme dans notre garde robe. 
Parmis "les essentiels" nous retrouverons notre chère petite robe noire à porter décontractée la journée, et plus stylée en soirée, en changeant juste nos chaussures et notre sac a main! Très pratique donc pour s'adapter à toutes les occasions du quotidien! 
Enfin, n' oublions pas la robe blanche qui offrira un côté romantique et léger en optant par exemple pour les broderies qui sont très "tendance" cette saison! De plus, elles mettent en valeur notre bronzage doré! 
Pensez également aux accessoires qui font toute la différence pour un look réussi! Je pense, par exemple aux grosses ceintures pour marquer la taille qui reviennent en force cette année! Vous pourrez aussi combiner vos jolies robes avec de larges gilets en maille pour les journées plus fraiches et les soirées sur le balcon!
Et pour celles qui souhaiteront cacher les quelques kilos pris lors de cette période inédite, pensez aux lingeries gainantes et galbantes qui sont désormais très comfortables et affineront votre silhouette.
Gardons en tête, le maitre mot du moment "espoir" et imaginons nous courir sur la plage cette été portant la petite robe dont nous avons rêvée de notre canapé! Je suis sûre que vous toutes, comme moi même, auront à ce moment là envie d'en profiter deux fois plus! 
Oh, those cute little spring and summer dresses that make us dream yearlong!
The sun is starting to shine and these cute sundresses are soon going to come out of our closet.
So let's put aside our turtlenecks and coats to make room for them!Of course, in these challenging times, we can't strut back and forth in our pretty dresses. However, in an effort to keep a positive mood, nothing prevents us from talking or dreaming about them or why not wear them for a romantic aperitif!
So to be perfectly trendy, here is my analysis to guide you in your choices!
Opt for the buttoned-up dress which is very popular this year. This style of dress made out of light material, allows you to highlight just what you want!  The vertical line created by the buttons will enhance and elongate your silhouette!
"Boho Chic" dresses will be a must in our wardrobe this season as well!  Frills, prints, and length will add a romantic touch to our outfits. Many of these dresses can be easily worn with sandals to stay comfortable while remaining chic.
In terms of prints, floral and polka dots dresses will be popular this summer. By accessorizing them, they'll give us a fashionable vintage look, which will be particularly in-style this season!
We will not skip wearing backless dresses either! Indeed, a plunging back gives us a glamorous look and will be a charming asset in our wardrobe.
Among "the essentials" we find the classic black dress that we can wear casually during the day, and dress up in the evening, just by switching shoes and handbags—very practical to adapt to all sorts of occasions in everyday life!
Finally, let's not forget the white dress for a romantic and casual look, especially if we add embroideries which are very trendy this season! And white dresses highlight our golden tan as well!
Also think about using accessories which can be the perfect addition for a successful look!  I recommend for instance, large belts, which are back in style this year, to accentuate the waistline. You could also combine your pretty dresses with thick knitted cardigans for cooler days and evenings on the porch or balcony!
And for those wishing to hide any extra weight gained during this unprecedented time, think of wearing close-fitting and slinky lingerie. They are quite comfy and will slim your figure nicely.
Let's keep in mind, the keyword of the moment, "hope" and, let's imagine we are running on the beach this summer in the cute dress we had been daydreaming about on our couch! And I have no doubt that we will enjoy this moment twice as much!
L' IMAGE BY SABRINA DERIAN MATTHEWS
Photography & Fashion Styling with French Influence 
​​​​​​​
TRANSLATION AND VOCABULARY LIST BY RACHEL CHRISTOPHE BAKER
Promotion during the time of confinement: $35 for a 60-minute class via Zoom/FaceTime/Skype. (my regular fee for an online class is $50)
When life is back to normal, I hope you would like to plan a trip to France.
LISTE DE VOCABULAIRE:
Pointer le bout de son nez: 

expression idiomatique qui signifie apparaître
Estival:

 relative à l'été –  Ex:  la saison estivale
Un apéro:

 abréviation d'apéritif
Boisson le plus souvent alcoolisée, prise avant le repas ; moment où l'on prend cette boisson.
Le bronzage:

the tan – bronzer: to tan
Se pavaner:

 Marcher avec orgueil, avoir une attitude pleine de vanité.
En amoureux:

 romantique, en tête à tête.
On peut dire un dîner en amoureux, une sortie en amoureux.
Période inédite:

unprecedented time
Etre dans l'air du temps: expression idiomatique qui signifie à la mode, actuel
Traduction: To be fashionable, in style
Le col roulé:

the turtleneck
Boutonné

 (adjective)

:

  buttoned.  Le bouton: a button
Un imprimé:

 a pattern, a print
Les essentiels:

  The essantials
Gainant:

Adjectif. Qui est censé affiner la silhouette, en parlant de lingerie féminine.  Ex: une culotte gainante.
Galbant:

Adjectif qui accentue les contours
Le gilet:

il peut représenter plusieurs sortes de vêtements.
+ Un gilet (French gilet, from Spanish gileco or chaleco, ultimately from Turkish yelek) is a sleeveless jacket resembling a waistcoat or blouse. Currently, a gilet is a sleeveless jacket or vest. … In a further derivation, in 19th-century dressmaking a gilet was a dress bodice shaped like a man's waistcoat.
+ Définition du dictionnaire Larousse:
- Pièce du costume masculin, courte et sans manches, qui se porte sous la veste.
- Veste en tricot, ouverte sur le devant, avec ou sans manches.
- Sous-vêtement en tissu à mailles ou en flanelle.
Boho-chic

 est un style de mode féminine influencé et reprenant divers éléments de la culture bohémienne et hippie. Cette mode, qui a eu son apogée à la fin de l'année 2005 est notamment associée à l'actrice Sienna Miller et au mannequin Kate Moss en Angleterre et à l'actrice et femme d'affaires Mary-Kate Olsen aux États-Unis.